Any of our Eternal Reefs can be used for an individual memorial.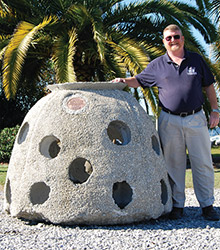 Mariner Eternal Reef

4′ high by 5′ wide (large)
3800 – 4000 lbs.
$7,495
The largest of our reefs, the Mariner Eternal Reef stands out as a pinnacle and attracts larger species of sea life. The Mariner can accommodate up to four sets of remains and is frequently used for spouses and other family members to be together.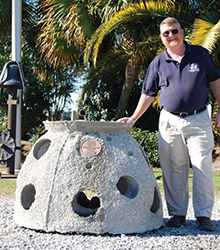 Nautilus Eternal Reef

3′ high by 4′ wide (medium)
1200 -1500 lbs.
$4,995
Our Nautilus is the key building block of a complete reef system. These reefs provide excellent habitats for all types of sea life. The Nautilus can accommodate up to two sets of remains and is frequently used for individuals and their pets.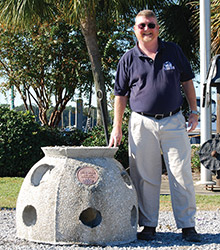 Aquarius Eternal Reef

2′ high by 3′ wide (small)
650 – 800 lbs.
$3,995
The most compact of our reefs, the Aquarius is an excellent complement to the larger structures and is ideal for the smaller varieties of life.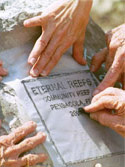 Eternal Reef Direct
Mariner   $6,495
Nautilus  $3,995
Aquarius
$2,995
Eternal Reefs Direct is our simplest memorialization service. Available for placement in Sarasota, Florida, Eternal Reefs Direct is a unique option for families who wish to have a loved one memorialized as a part of a living reef and are unable to attend the dedication and placement process. Eternal Reefs is currently placing reefs on the Silvertooth Reef site off of Lido Beach in Sarasota. Silvertooth is already home to more than 600 Eternal Reefs and it is thriving with abundant sea life.
Eternal Reefs will receive the remains and staff will then cast the Eternal Reef, complete the placement and dedication in lieu of any family participation. The casting, placement and dedication will all take place in Sarasota and be completed as conditions allow. A plaque inscribed with the name of the individual along with their life dates and two certificates showing the GPS coordinates of the family's loved one's Eternal Reef are also provided. A beloved family pet can be included at no additional cost.
For over 17 years, Eternal Reefs has been providing at sea memorialization and now through Eternal Reefs Direct, the process is easy and affordable. The Eternal Reefs Direct Memorial is our most affordable Eternal Reefs Advance Planning Program option with both single and multi-year payment options available.
What is included with an Eternal Reef
The handling of the cremated remains once we receive them.
The incorporation of the remains into the concrete.
Normal sized house pets can be included in any of our individual memorials at no additional cost.
The casting of the Eternal Reef.
The transportation of the Eternal Reef to the project site.
The final placement and dedication.
A GPS survey to record the specific longitude and latitude of the Eternal Reef.
A bronze plaque with inscription.
Two Memorial Certificates.
Please note: When more than one set of remains is included in an individual Eternal Reef there is an additional charge of $250 for each set of remains after the first set of remains.
People and Pets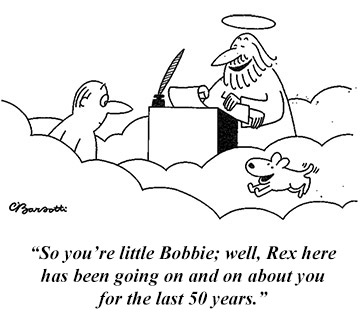 The single most frequent questions we receive are about our four legged family members and other family pets. We know firsthand how connected and important pets become in our lives, and we understand how much their passing can affect us.
When we receive calls about memorializing pets we explain that we need to meet the same regulatory requirements for any of the reefs we place in the oceans. And as a result we need to charge the same for pets as we do for people.
Our suggestion is that you consider holding onto your pets remains until your time comes. We can then make an Eternal Reef with both sets of remains together.
It is amazing to hear the change in their voices as the idea of being together for eternity starts to sink in. There is a real sense of comfort in the idea of being together again at the end. Almost instantly we have a new best friend who is much more at peace with their loss.
It is rare that we have a placement that does not include at least one family member and their beloved companion(s). There is no additional charge to include pets with their other family members.