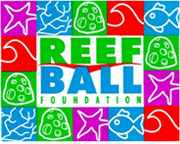 The Reef Ball Foundation is our strategic partner and plays a critical role in helping to protect the world's reef systems. The Reef Ball Foundation's mission is to help restore the world's ocean ecosystems and to emphasize and protect our natural reef systems through preservation, Reef Ball technology, innovative public education opportunities, and community involvement. The Reef Ball Foundation works with governments, businesses, schools, research institutes, private individuals and community organizations.
The Reef Ball Foundation is a world leader in marine environmental restoration and preservation issues. The foundation has been nominated and won numerous awards for its contribution to the marine environment and for increasing awareness of marine preservation issues worldwide. Several of the international awards include:

The Katerva Award, a recognition of global sustainability. The Reef Ball Foundation won two prestigious 2020 Katerva Awards, a first place People's Choice Award and a first runner-up award, both in Katerva's energy and environmental category.
The Tech Award from The Tech Museum of Innovation for addressing the need for coral restoration and propagation.

The Classy Award for Environmental Protection. The Classy Awards are use to identify and recognize the greatest champions of social progress.
The Reef Ball Foundation is a publicly supported 501c3 non-profit charity
and all contributions are fully tax deductible.