On Eternal Patrol Memorial Reef Dedication
Despite threatening weather from subtropical storm Alberto, the On Eternal Patrol Memorial Reef dedication was a wonderful event honoring the 65 lost American submarines and the 4,000+ officers and crew who remain On Eternal Patrol. We at Eternal Reefs, Reef Innovations and the Reef Ball Foundation sincerely appreciate everyone who attended events this past Memorial Day weekend. Due to ongoing weather issues, the Eternal Reefs will be deployed over the summer months.
For now, we hope you enjoy this summary video, compiled by our photographer Brian Dombrowski. Please watch this space and our Facebook page for other photos and news to be posted. Again, thanks to all who participated, volunteered and attended to honor our heroes.
Your help is needed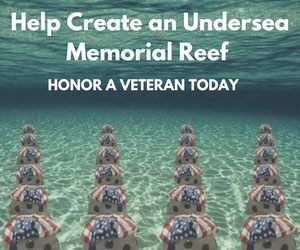 The "On Eternal Patrol Memorial Reef" will be the first-ever undersea memorial to honor the United States submarines and their crews that made the ultimate sacrifice and never returned from duty. Imagine 66 reef balls, one for each US-manned submarine lost since 1900 and a single reef ball honoring those lost in non-sinking incidents, forming a patriotic reef off the coast of Sarasota, Florida. It will forever pay tribute to those "On Eternal Patrol" and replenish the precious marine environment in which they served.
Why give? We need $200,000 to fund this historic project. Your tax-deductible contribution will help cover expenses to create this memorial, including:
Fund the cost and deployment of the reef balls
Pay for the memorial plaques honoring each submarine and the lives lost
Cover expenses related to creation of the reef
Cover expenses related to maintenance of the reef
Each reef ball will be recognized with full military honors and flags by an honor guard on Memorial Day weekend 2018. Families, friends, military and citizens at-large will be there to witness this once-in-a-lifetime event. We invite you to join us on May 27th!
Make the difference. A gift of $25, $50, $100 or $500 provides these 4000+ submarine veterans the long overdue recognition they deserve. Get on board in honor or memory of a patriot today. Your gift matters.
Memorial Day Weekend Activities
Tour of Reef Innovations Manufacturing Facility
Saturday, 26 May 2018
10:00 a.m. – 2:00 p.m.
Guests can participate in personal, guided tours of the Reef Innovations manufacturing facility to see how reef balls are created and learn about this gold standard for designed reef systems worldwide.  Call 941.330.0501 to reserve your spot.
1126 Central Avenue, Sarasota, FL  34236
Dedication and Military Honors Program
Sunday, 27 May 2018
10:00 a.m. – 12:00 p.m.
Guests will attend a landside dedication and military honors program.  The ceremony will include honor guard, rifle salutes, playing of taps, folded flags and a tolling of the bells for each boat.
Ken Thompson Park, 1700 Ken Thompson Parkway, Sarasota, FL 34236
Deployment of a Single Eternal Reef
Monday, 28 May 2018
Time TBD
Weather permitting, Eternal Reefs will deploy a single, representative Eternal Reef to the designated reef site off of Sarasota, FL. The remaining reefs will be deployed soon after.
We welcome family, friends, submariners, veterans and other interested parties to participate in the Memorial Day weekend activities. Find accommodations and details about Sarasota here. A promotional hotel rate is available at LaQuinta Inns and Suites Downtown, Address: 1803 N Tamiami Trail, Sarasota, FL 34234, Phone: (866) 527-1498. Ask for the "Eternal Reefs under George Frankel" discount.
Explore more about the lost submarines and their crews on our Facebook page. For questions about On Eternal Patrol Memorial Reef, including to inquire about the Monday ocean excursion, contact info@EternalReefs.com or phone 888.423.7333.