"Dare's Reef" becomes first Sea Turtle Memorial Reef in United States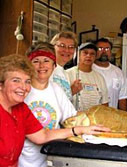 Dare was a female Kemp's Ridley Sea Turtle, the most highly endangered of all the sea turtle species. Found in 1999 in Dare County, North Carolina, severely underweight for her young age of 1 ½ years old, Dare suffered injuries from boat strikes and ulcers. Just prior to impending release, Dare was evacuated from Topsail Island during Hurricane Floyd and spent 4 days floating in her tank in contaminated flood waters. When rescued, her tank was found 27 feet in the air in a tree. Dare was re-examined by vets and found to have physical and neurological problems, and there was some speculation that she may have suffered a lightning strike during the hurricane. In an effort to improve her attitude and depression, Dare was treated to a "spa day" once a week by the rescue, in addition to continuing treatment of her various medical issues. Following major surgery for a large encapsulated mass, Dare slipped into a coma and passed away March 10, 2005.
Inspired by Dare, Eternal Reefs announced its partnership with the Karen Beasley Sea Turtle Rescue to create the first Sea Turtle Memorial Reef in the United States. Eternal Reefs will combine Dare's cremated remains with environmentally safe concrete to form an artificial Reef Ball. Dare's reef will be placed on the ocean floor in a permitted location off the coast of North Carolina.
Headquartered in Topsail Beach, North Carolina, The Karen Beasley Sea Turtle Rescue and Rehabilitation Center is one of the few sea turtle treatment facilities in the United States that accommodates injured loggerhead, green, and Kemp's ridley turtles from up and down the Eastern Seaboard. Most of the turtles have human-caused injuries ranging from cuts from boat propellers, entanglement in fishing gear, or poisoning from heavy metals, PCBs, or dioxins in their food and their environment.
"Our volunteer staff has chosen to memorialize Dare as a symbol of all the tens of thousands of sea turtles and other marine animals who die each year, many of them as a result of human irresponsibility," said Jean Beasley, Executive Director, Karen Beasley Sea Turtle Rescue. "We hope that Dare's reef ball and the reef that will carry her name will be a reminder of the value and beauty of our fellow species. We return Dare to her ocean home to be part of it forever."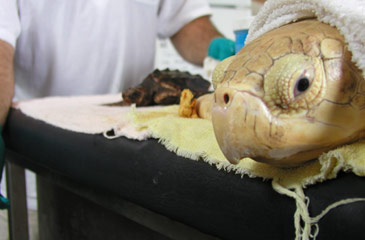 ---
For more information about The Karen Beasley Sea Turtle Rescue and Rehabilitation Center, visit www.seaturtlehospital.org.