To mark World Sea Turtle Day (June 16th) the Jekyll Island Authority's Georgia Sea Turtle Center (GSTC) and Eternal Reefs memorialized Griffin and cast his ashes into a reef ball on Friday, June 17 The day also featured several sea turtles being released into the ocean after successful rehabilitation at GSTC (www.GeorgiaSeaTurtleCenter.org). Griffin, an adult male loggerhead sea turtle who suffered from a condition similar to a human stroke, had been a patient at the Georgia Sea Turtle Center since November 2007 and touched the hearts of countless visitors, staff and volunteers. His ashes return to his ocean home in a large, eco-friendly reef ball which will be placed in a permitted location in the ocean off Miami in July.
Download the press release (.doc)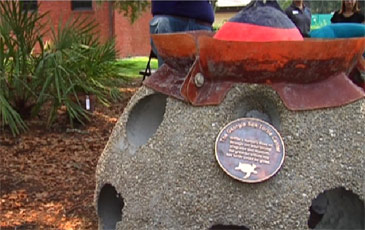 View more Griffin photos here.
Recent Coverage
The Georgia Sea Turtle Center Creates Griffin's Eternal Reef

Griffin Going Home

Griffin, a Loggerhead turtle, had been cared for by the Ga. Sea Turtle Center on Jekyll Island. After 4 years of intensive care and therapy it was determined that Griffin would never be able to dive or feed himself. The difficult decision was made to euthanize him. Over the years he had become the favorite of the staff and had more than 300 adoptive parents. It was only fitting that he be made into a living memorial as an Eternal Reef and placed back in the ocean where he belongs.
Griffin going home, Check out the sea life there to greet him!