Hello and welcome to the first Eternal Reefs blog post! I'm Shelby Davis, Director of Affiliate Marketing and I've been working with Eternal Reefs in a sales and marketing capacity since 2001. It has been such a rewarding experience to be involved with carrying out the wishes of those who have been memorialized through a living legacy that will continue to benefit future generations, and I look forward to continuing to work with our families, partners and our fans. As mentioned in our last newsletter, we will be discussing some important subjects as well as having some fun with more light-hearted content. Please let us hear from you regarding topics that we post as well as topics that you would like to see us cover.  We're excited to have another opportunity to establish a conversation with you and to share information and resources that we have received over the years.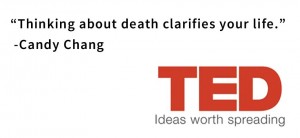 Today, our topic is discussing end-of-life arrangements. As the TED Talk quote from Candy Chang indicates, whether you are twenty-one or seventy-one, it is extremely important that you write out your end-of-life wishes. Prior to writing out your wishes, you might want to consider a few questions. Do you plan to be an organ donor? Do you want a "do not resuscitate" mandate provided to family members? Do you want to be cremated or have a traditional burial? While these topics may be morbid for some, they are decisions that you will need to make at some point in your life so why not now?!
We are providing information regarding end of life planning for one simple reason – we have learned over and over again both from our personal experiences and from working with our families, no one is guaranteed tomorrow. Throughout the years that I've worked with Eternal Reefs, I have spoken to hundreds of family members and can tell you first-hand how distressing it is to family members when a loved one dies and the family is unaware of how the deceased would want to be memorialized. A death is already an extremely difficult time for loved ones and emotions are intense. If there are no end-of-life plans made by the deceased, it is up to the remaining family members to determine how best to honor their loved one. There will inevitably be family members who differ on which type of memorial is best. This has often caused family divisions that don't always heal with time. For this reason alone, take a few minutes to write out your thoughts and make sure a family member is aware of the location of this information. Having discussions with your family about your end-of-life wishes and put it in writing is among the greatest gifts you can give your family and yourself. Please don't put them off any longer because no one is guaranteed tomorrow. And, please share this information with anyone and everyone you think would benefit from it. As a general comment about our society, talking with family and friends about death and dying is not something we generally do or want to do.  The importance of documenting and sharing end-of-life information and decisions with your family and friends is often quite apparent when we or a family member is no longer able to advocate for ourselves. Don't wait until this happens, do something about it today. The Conversation Project is a tool that can help facilitate this discussion. This website helps equip families with the tools that will allow them to start the discussion about end-of-life issues. This conversation gives families an opportunity to talk through all aspects regarding how they want their affairs and decisions to be addressed. You can learn more about The Conversation Project at http://theconversationproject.org/. The website, www.agingwithdignity.org, presents in great detail the questions and issues involved with end-of-life decisions. They have developed a template document that meets the legal requirements in forty-two states to help address these questions.  The Five Wishes is a planning document to help organize your thoughts around your end-of-life plans. If you have a resource to help facilitate the conversation around end-of-life planning or a template that you have found helpful, please let us know. We would love to hear from you!